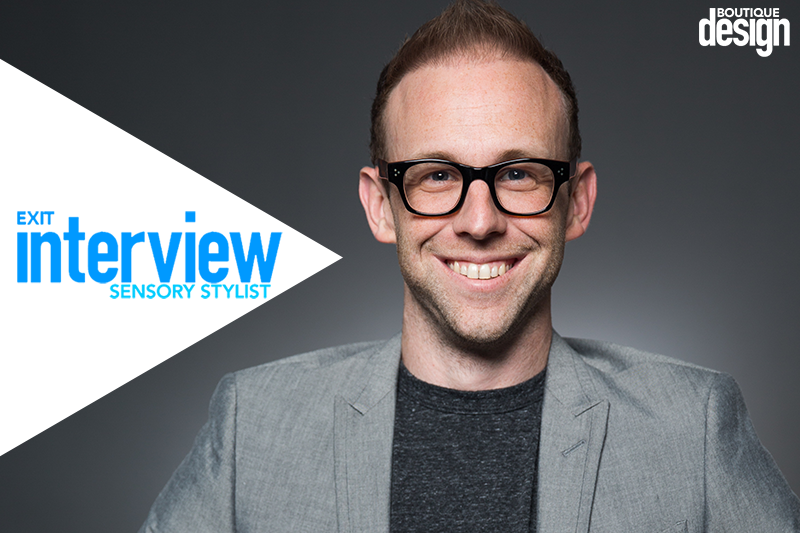 Our president, Josh Almeida, was featured in Boutique Design Magazine. Boutique Design is all about profiling design leaders from all over the world. We are so honored that Boutique Design Magazine chose to interview Ascend Studios about our creative work in the hospitality industry. You can view the digital version of the magazine HERE or just read the article below.
Exit Interview by Christina Green
SENSORY STYLIST
Ascend Studios president/owner Josh Almeida always understood that magic is in the details. Now he's using his audio-visual expertise to craft show-stopping environments for guests around the globe.
It doesn't always take Disney to make dreams come true. Sometimes unexpected obstacles can help write a new script. At just 10 years old, Josh Almeida decided he wanted to be an Imagineer. It never happened, but something equally invigorating eventually did.
"I grew up in Orlando going to theme parks all of the time. At one point I could tell you where every bathroom, pay phone or ride was at the Magic Kingdom," recalls Almeida. "Even as a kid, I understood that themed environments are thoughtfully designed spaces where the smallest details matter. Each is part of a story, experience or feeling that a team of people worked so hard to create for you. I love the magic within that."
Almeida started his high-tech education at Full Sail University, which specializes in training for the entertainment and media industries. After only one year of studies, he ventured into the audio/visual (AV) industry, spending a decade working on projects ranging from theme parks to military mission control rooms—including managing AV systems for such brands as Hard Rock Intl., Jimmy Buffett's Margaritaville and adidas.
From there, the techie applied for his dream job as a Disney Imagineer. "After the six-month interview process, I was offered a job on the R&D [research and development] team to work on what now is known as MagicBand," recalls Almeida. "But there were two issues: I had to move to California and the salary wasn't what I wanted. I decided not to proceed, and I was crushed."
But that disappointment sparked the idea for Ascend Studios, a business that designs and builds AV experiences. Almeida launched the company in Orlando in 2011, and has since done work for such high-profile hospitality companies as The Ritz-Carlton, Loews Hotels and Universal Studios.
WHY IS AV ESSENTIAL TO HOSPITALITY INTERIORS?
AV helps give a room its energy, whether it is a lobby, guest room or restaurant. The music, lighting and visuals have the power make a room or diminish it. You can have the best fabrics, modern furniture and the most helpful staff at a hotel, but if the music isn't as carefully curated, then all of that falls flat.
HOW DO HOSPITALITY OWNERS/OPERATORS MISS THE MARK?
Too often, operators will have their AV designed and installed by a general contractor. Those businesses are notorious for subbing out the AV to their electrician company, who will then sub out the work to a local AV company that is close to the build site. This means that the AV company doing the work has no direct connection to the hotel or its brand goals. The job becomes about "value engineering" and details don't matter. Suddenly, the AV vendor is installing $30 box-store speakers when they should be using professional-grade ones that sound fantastic. No one notices until after the hotel is open and it's too late to fix.
That's why it's so important that operators choose the AV vendor themselves, and not pass along the decision. They need a quality-oriented, relationship-focused team that they trust to create a brand-wide standard that extends to all of their properties.
WHAT AV TRENDS ARE ON YOUR RADAR?
We're seeing a lot of video walls, interactive experiences and high-tech guest rooms. The world has become all about personalized experiences. It's exciting to see the guest response to interactive lighting systems, as well as zoned audio systems that allow guests to stream their own music to their cabana or the hotel bar.
TELL US ABOUT HOW YOU'RE USING LED WALLS IN HOTELS AND RESTAURANTS
Man, we love LED video walls in the hospitality space. We think of them as massive canvases that can be changed throughout the day. My current favorite use is creating custom art that reacts to guests as they walk by, or responds to the weather or the time of day. Another popular application is installing 4K cameras that stream live video of the city's skyline, sunset/sunrise, the surfers on the beach, or skiers as they fly down the slopes. The idea is to bring the outdoor elements of the location inside.