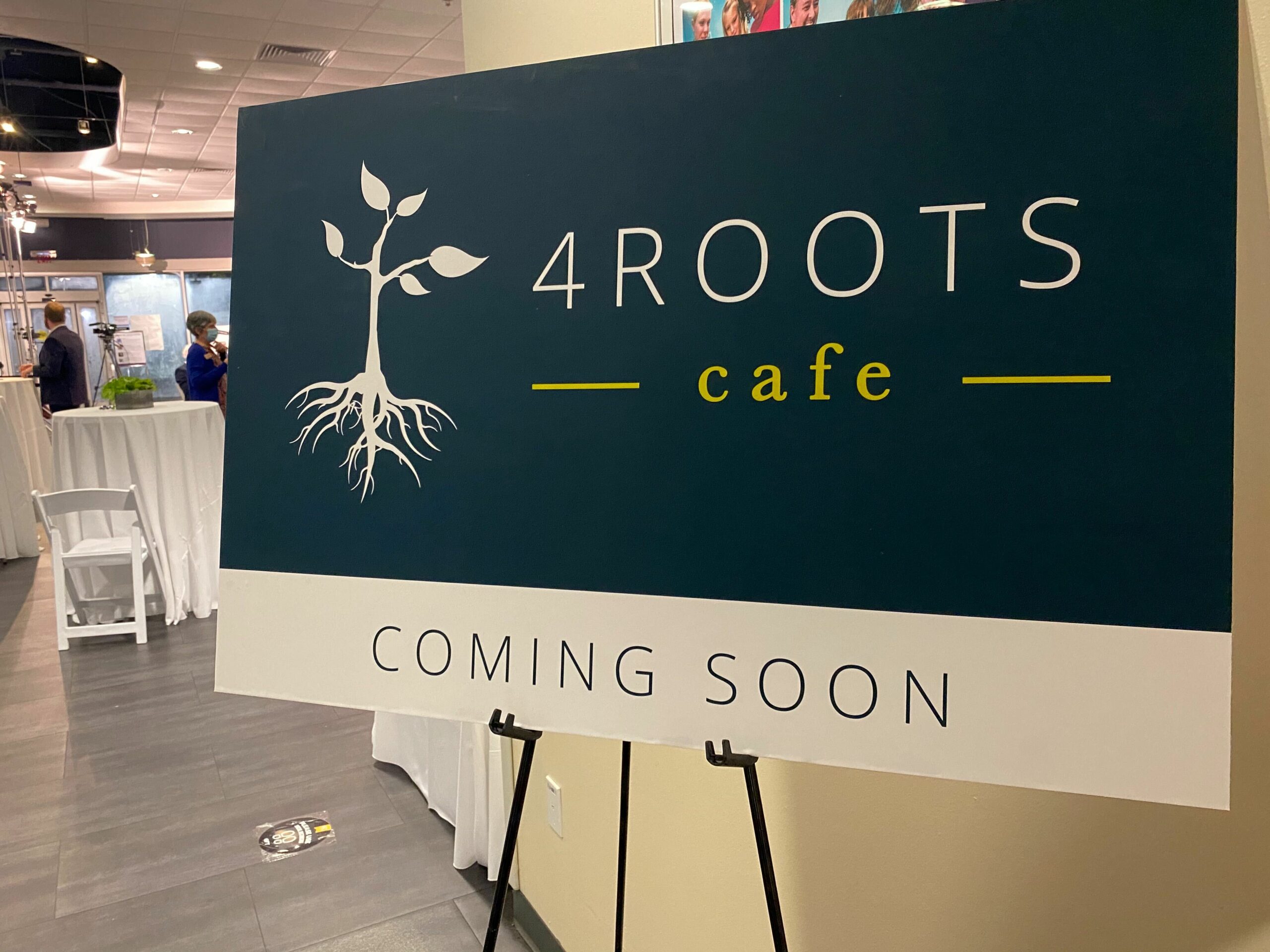 The Ascend team loves to create. And we're always looking for new types of spaces to incorporate audiovisual awesomeness. That's why we are so excited to share our digital displays and creative experiences for our favorite local museum, the Orlando Science Center!
Coming soon in Fall 2020, experience a brand new concept in museum dining with a sprinkle of Ascend magic.
The Orlando Science Center dining space will soon be transformed into the 4Roots Cafe.  This unique spot will focus on food science education while serving locally-sourced ingredients to promote Florida agriculture.
Video Walls are Science
Our design team created a stunning, double-sided LED video wall to showcase farming content and speaker presentations. Each giant 20′ x 8′ video screen will be suspended from the center of the cafe. See our mockup below.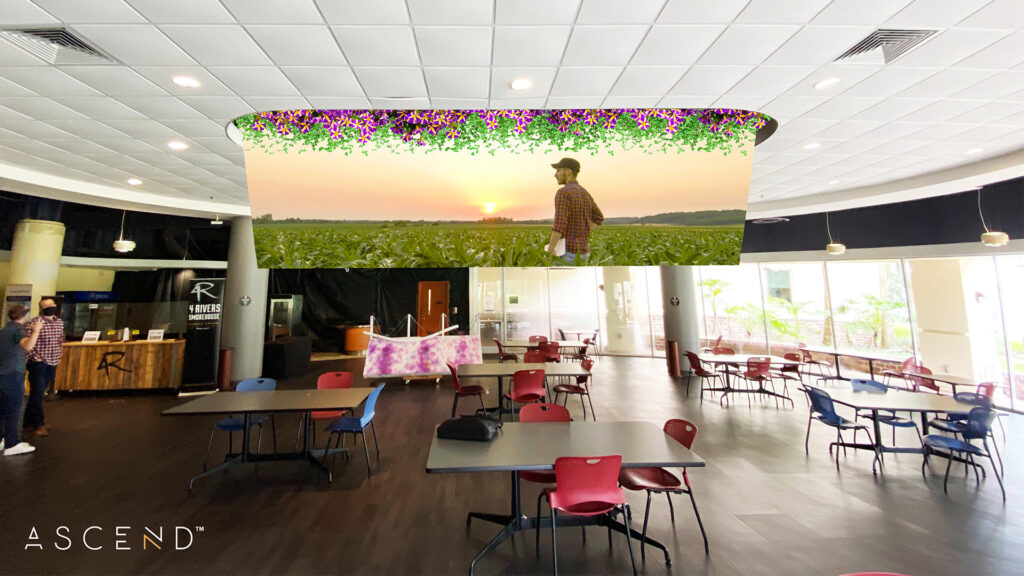 Lunch & Learn 
This new cafe concept is the brainchild of John Rivers, founder of the popular 4Rivers Smokehouse restaurants, in collaboration with the Orlando Science Center (OSC) team. The 4Roots Cafe will introduce a totally new menu, focusing on produce from Florida farmers. This new space will draw upon the mission of the 4Roots Farm Campus – an urban farm and public center for agricultural education (currently under construction in Orlando's new Packing District).  Diners at the Orlando Science Center will enjoy an innovative experience, integrating a new collection of exhibits and programs happening in the dining space of the museum!
Check out the 3D rendering below created by the OSC/4Roots teams. 
The 4Roots Cafe will serve fresh food within a setting of educational exhibits, live cooking demos and presentations from Florida farmers – Florida Food Heroes. Such a cool way to keep the learning and fun going even when you take a break for a bite!
Creative Experiences 
Ascend jumped at the opportunity to design creative experiences centered around food education for both children and grownups.
The Science Center caters to tons of preschoolers, so it was important to come up ideas to engage the kids in learning. We're super proud of the interactive exhibit we designed that demonstrates the magic of how plants are grown from seed to seedling.
Check out our mockup.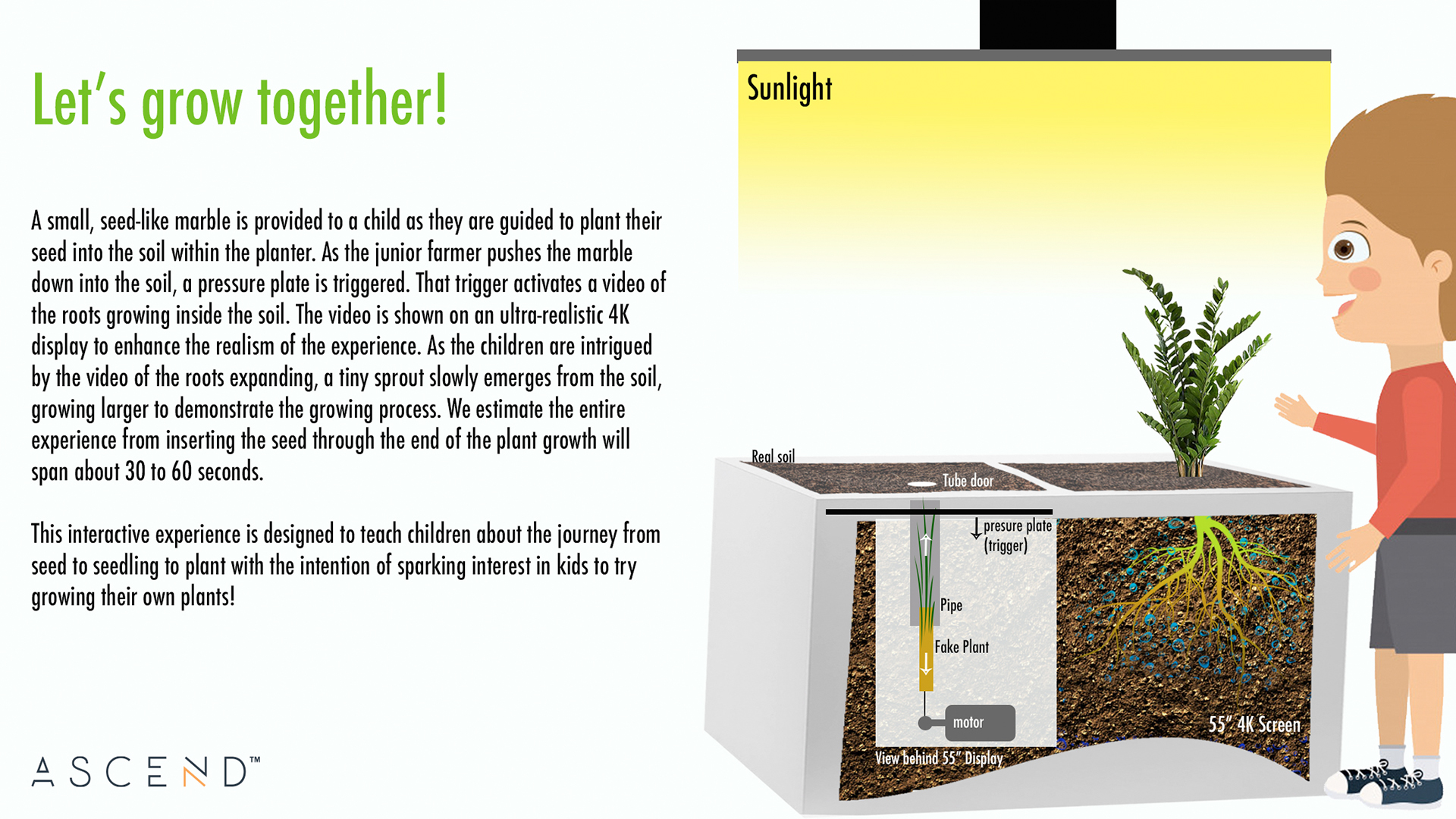 The activity starts when a child drops a seed into the soil to start the virtual growing process. Kids will be amazed to watch roots growing "underground" on the 4K 55″ display while a tiny seedling begins to sprout from the soil. Pressure sensors, motors and programming commands will trigger the plant to pop up and later disappear back into the soil. We hope this activity inspires children to try planting a seed at home!
Check out our animation. 
Tabletop Tech 
Not just for kids, our designers came up with a cool way to engage teens and grownups too.
This interactive tabletop experience starts when the hidden NFC sensor within the meal tray is scanned by the table and the pair of 10″ tablets mounted onto the table will reveal details about the Food Heroes that grew those specific ingredients. And the custom content created by Ascend will also include details about how to support those farms and where to buy local Food Hero products. Using technology to promote local farms may be one of our new favorite things!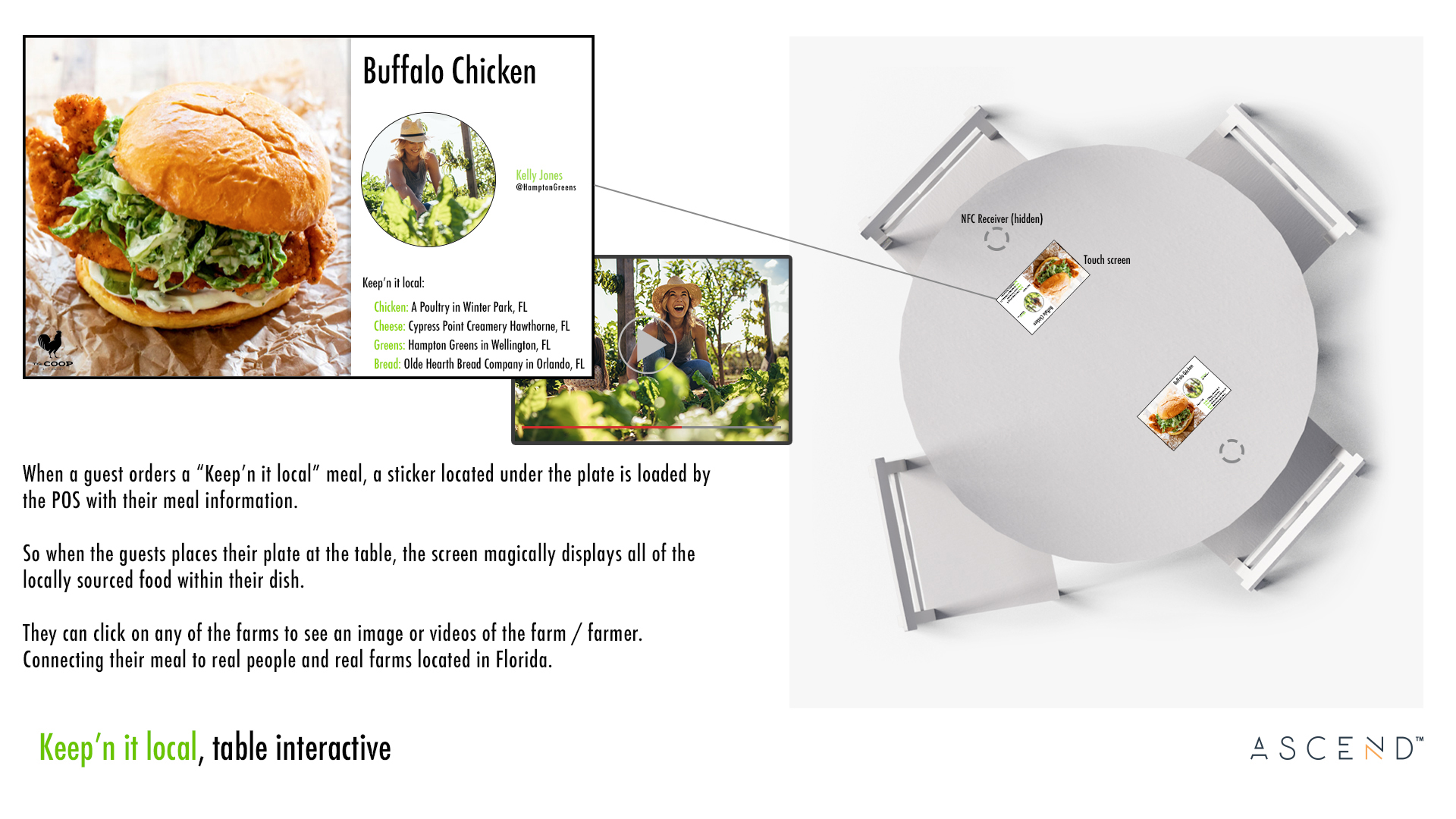 It was a blast collaborating with the clever minds and visionaries of the Science Center and 4Roots teams! We are so grateful to have been a part of this exciting project. Stay tuned for updates.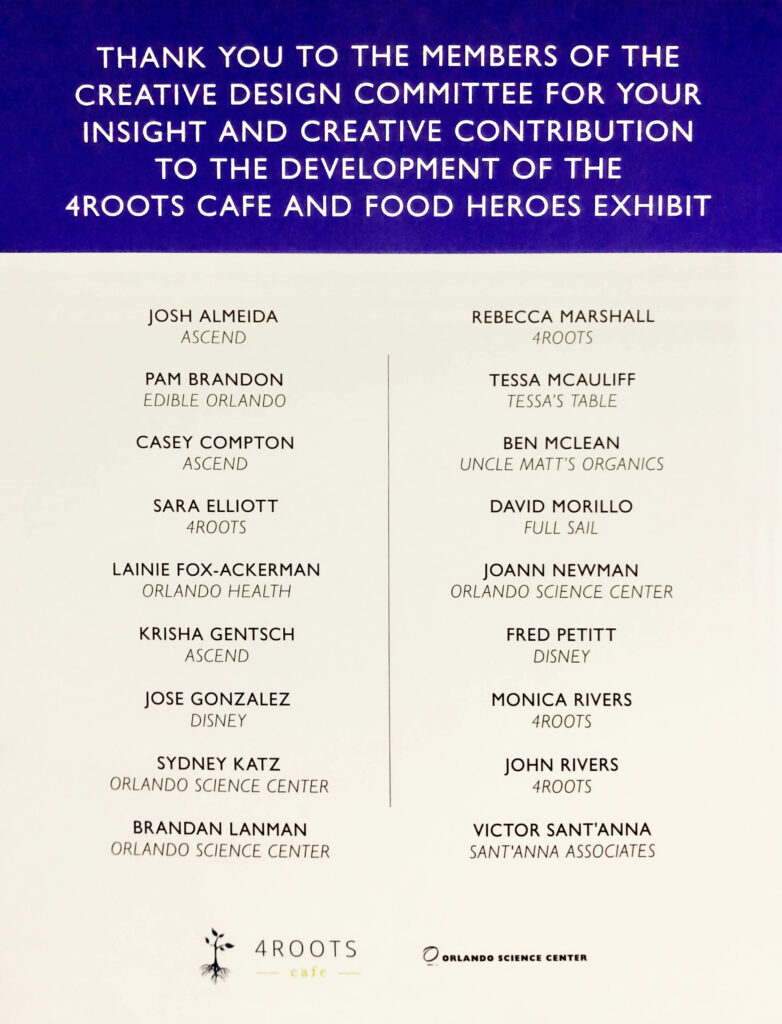 This project is being funded by community donations to the Orlando Science Center. Please consider making a donation HERE to help bring this project to life!
To learn more about the inspiring mission of the 4Roots Campus, check out the 4Roots Farm site.