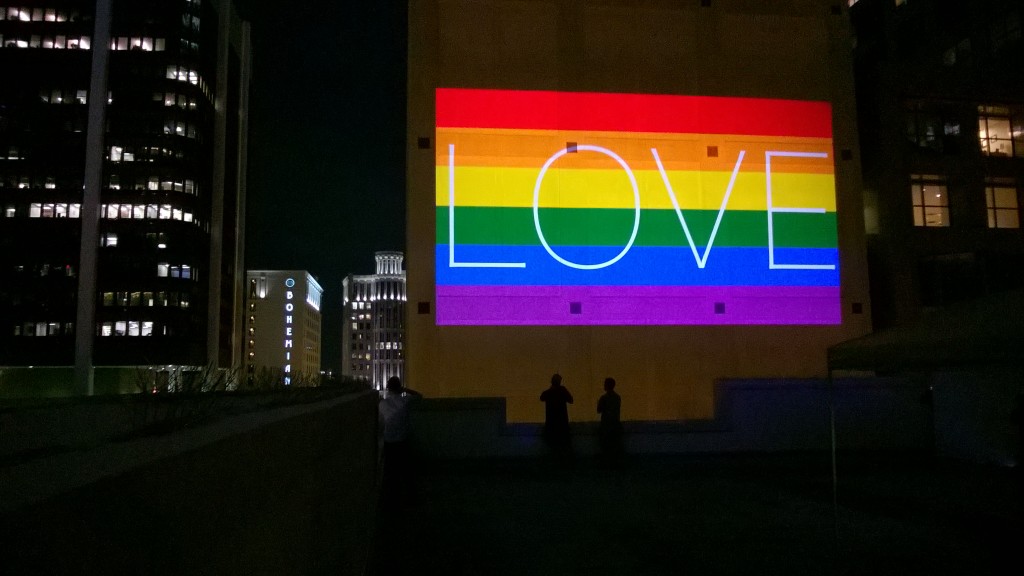 On June 12th our city was attacked by a terrorist.
When the attack happened,  it really hit home for us. We're strong supporters of gay rights and passionate about the Orlando community and our identity as a city. Our thoughts are with the victims and families in this difficult time.
On Monday morning, around 10am, we had the idea to show our love and support in our own way. We hit the ground running trying to get everything put together by dusk. We worked with the city and all of the building owners and property managers: Matt, Chris, Joe, and Christine. They offered so much support and were incredibly helpful, within a matter of hours everyone was on board with the idea.
We reached out to a few other Orlando based companies for help and the support was overwhelming. Evolve Media Group ‪donated two huge projectors and volunteered to come by and help us set up. Tyler Lighting donated dozens of colored LED lighting strips and volunteered to help during set up. Sunbelt rentals donated two huge generators to power the projectors. The Edge Factory and local digital artist Nathan Selikoff donated the beautiful digital content that you see in the photos below.
It was so magical to see everyone come together and create a display to show Orlando's love and support for those affected by this tragedy. We are so proud to be a part of "The City beautiful"
Love is Love.
‪Please send a thank you to all of the individuals and companies who made this possible:
Evolve Media Group
Tyler Lighting
The Edge Factory
Susquehanna Holdings
FBC Mortgage
Nathan Selikoff
Sunbelt
Thomas Chatmon
Suntrust Center
Piedmont Office Realty Trust
Thank you, Orlando Business Journal, for writing about our tribute.