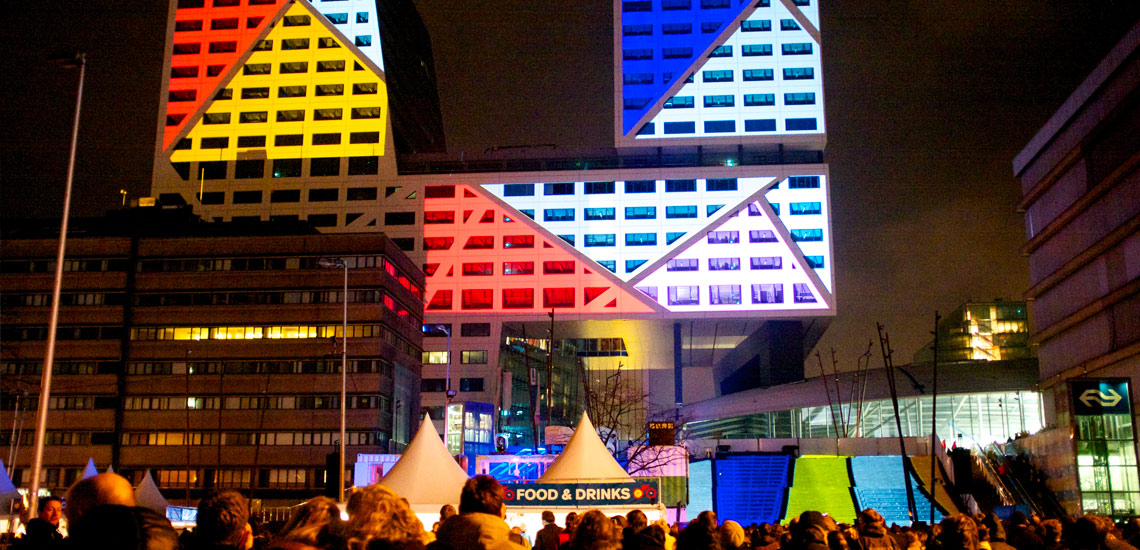 By this point, you've probably heard of projection mapping and maybe you've seen a few videos while you were scrolling through Facebook and surfing Reddit. In case, somehow the internet has failed you by never bringing the beauty of projection mapping into your life, we're here to help. And in the event that you've seen some projection mapping but want to understand the back end of what's actually happening, we're writing this series for you too. But be warned… We might be nerding out a little bit.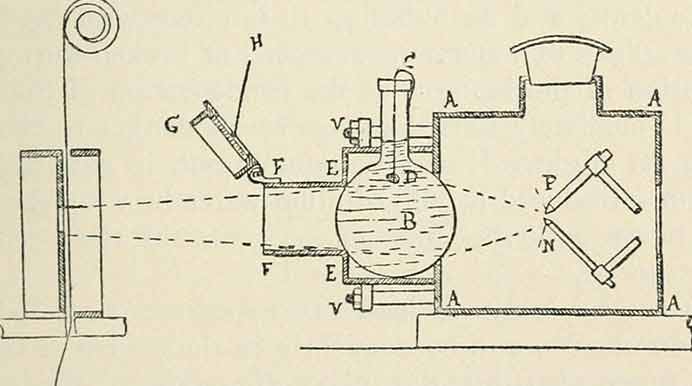 Definition & History of Projection Mapping:
Projection mapping has had several different names over the years as it was being developed and experimented with. Some of you may know it as "spatial augmented reality" or "video mapping". Whatever you know it as, it's the use of projectors to shine onto a 3-D surface opposed to a typical flat rectangle that's often seen in classrooms and conference rooms.
When a projector shines a mirror image of your computer display for example, it's typically shining on a standard projector surface. While this is cool tech, and has definitely revolutionized the way that we teach and present ideas, it's become so standard that it wouldn't really be a mind blowing sight no matter where you see it. A decent amount of people even have these installed in their homes instead of using a typical TV. By this level of tech becoming so standardized, it's only normal that it's being taken to the next level in commercial and creative situations with projection mapping.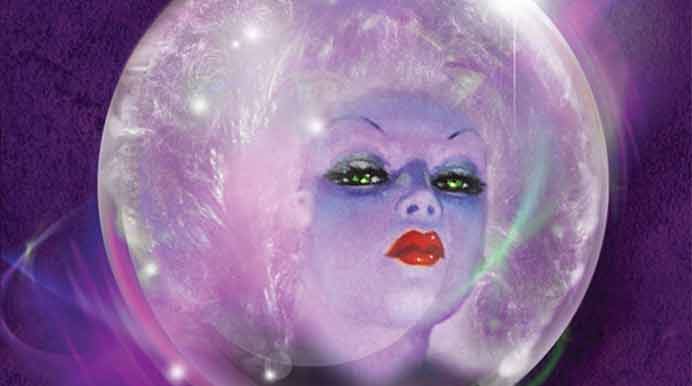 The first experimentation with projection mapping is surprisingly old, considering that we've really only seen the increased use and popularity of this tech over the past 5 to 10 years. The first documented projection mapping was by none other than Disney, and was used for their Haunted mansion ride, in 1969. They projected a talking head clip of a Disney employee onto a mannequin head. Although it had some flaws you couldn't get away with today, it was unlike anything that the world had ever seen at that point. Some guests thought that someone was sitting underneath the box and literally speaking the lines over and over. Others thought it was a legit hologram.
Things got even more advanced as they continued to improve the haunted experience over the years. In 2004 they made the crystal ball levitate around the table it was previously sitting on, and they synced the projection along with it. If you want to learn more about the experimentation Disney did for this ride, check out this article published by Gizmodo.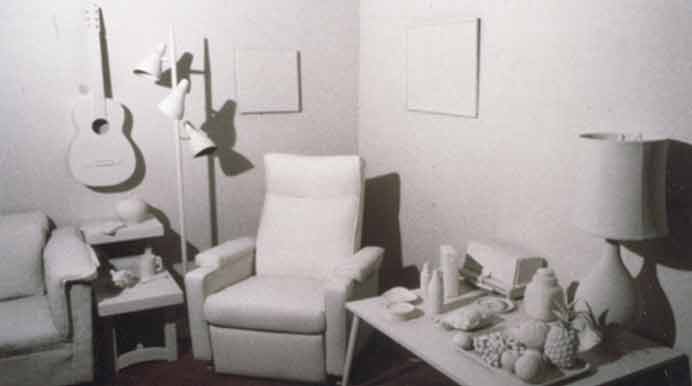 Michael Naimark – Displacements
If you feel like nerding out on other projection experiments, this paper from 1984 on spatial correspondence experiments is pretty cool and the explanation is well written. The author used projector movement that matches with the camera movement of the projected scene. While interesting, the result didn't really have much practical application. Another projector enthusiast and grad student at MIT's Center for Advanced Visual Studies, Michael Naimark experimented with spatial correspondence but also with relief projection. I highly encourage any interested art/techy people to read the article he wrote about it, but to sum it up: He filmed a scene with a camera that was rotated in a circle, then he physically painted every object in that scene white, making it into a projector surface and then projected the footage onto it with a projector rotating at the same speed. If you want to know what happened next in the projection mapping development, check out this post from projection-mapping.org.
---
Whew.. Sorry for the long nerd rant… We really get into this stuff.
Here's a TL;DR for this post in case I lost you along the way:
Projection mapping is the act of projecting onto a 3D object and is super cool.

It's been experimented with since 1969, and has come a long way.

We get pretty nerdy about projection mapping.
Stay tuned for the next post in our Projection Mapping Series. Throughout this series we're going to cover how projection mapping is accomplished, the pros & cons of projection mapping, and we'll also go over some use cases and examples.
Have questions in the meantime? Hit us up!