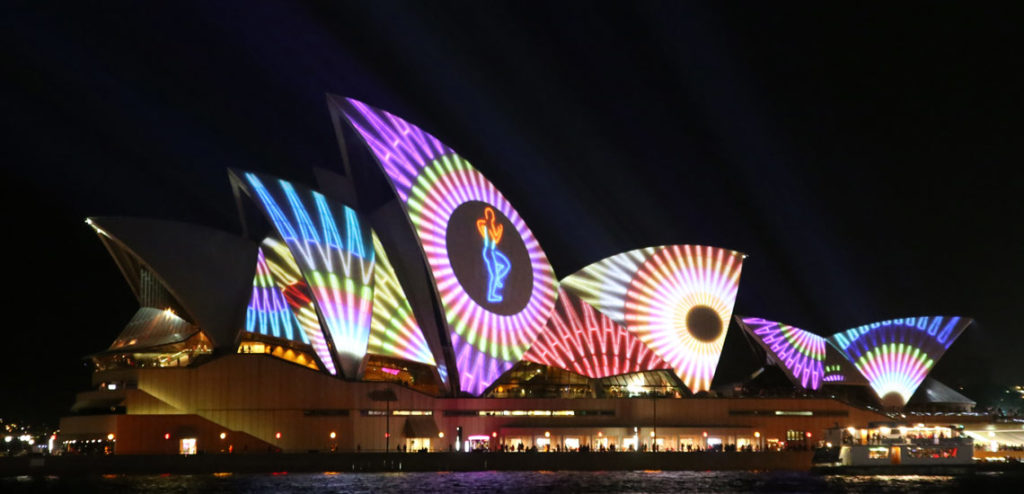 To wrap up our four part series, we'll be showing some inspiring projection mapping examples. Projection Mapping has a large array of use cases, but is always used as a way to captivate viewers or passerbys. If you haven't yet, make sure you check out our previous posts in this series: Part One: The History of Projection Mapping, Part Two: How Projection Mapping is Accomplished, Part Three: Pros, Cons, and Alternatives to Projection Mapping.
PROJECTION MAPPING IN ADS
Companies know projection mapping is cool and catchy. A ton of companies have done projection mapping projects knowing that if they're promoted right, they're bound to go viral on the interwebs.
One epic example of this was Kat Von D's makeup promotion when she released her Sephora line. What makes this so cool is that the content is mapping to her face as she moves, in real time, and it's pretty dang accurate though a little laggy if the movement is too quick. They accomplished this by adding in some extra tech and processes to track her movements. Check out the video below to see the results. It's stunning, and sometimes a little bit creepy, but hey, that's her style. Once you see it, it's no surprise that it reached over 90 million people.
PROJECTION MAPPING IN RETAIL
Retailers are at a really pivotal point right now. With the increase of e-commerce shopping they have to go the extra mile to create the in-store experience into, well. More of an experience. Utilizing technology and creating interactive kiosks that pave the way for omnichannel shopping is the concern for many storefronts.
Leave it to Nike to pave the way. Nike's Air Force 1 iD sneakers are completely customizable. Instead of just putting up a static sign, they integrated tech. And instead of just putting an ipad out with the website pulled up where you can design online, they took it further.
In Niketown London, they have displays in the store promoting the sneaker. In the middle of the display, is an all white version of the Air Force 1. Below, is a touch panel that consumers can choose what color or pattern they may want on their custom pair. Then, it's projected onto the white sneaker, showing consumers what they would be getting, and making it much more real. Take a look, and you'll see why we're stoked about this.
PROJECTION MAPPING IN THE ENTERTAINMENT INDUSTRY
The very first example of projection mapping that usually comes to mind is the nightly show at Cinderella's Castle in Disney. After a magical day spent in the park, the theme park giant knows how to wrap up the day beautifully. In the past, Disney used to end with some music and a choreographed fireworks show. Don't get me wrong, fireworks are always exciting, but they breathed some fresh techy air into it by integrating projection mapping. Plus, there are still fireworks in addition to the projections. With Disney being as popular as it is, they needed to account for the guest experience from every angle of the castle, so that each person can experience it just as well as the next.
Sports arenas have also excelled at implementing the projection mapping tech. Even college sports team have been adapting uses of the tech during pre-game or half time. Entertainment companies have to fight to make their experience captivating enough to keep audiences from reaching in their pocket, grabbing their phone and scrolling through Facebook. If there is phone usage, they want the reason to be that the experience was just so good they needed to share it with their friends, family, and followers.
PROJECTION MAPPING GUERILLA STYLE THEMED EXPERIENCES
Large companies have been doing guerilla style projection mapping experiences for quite a while. Back in 2010, Toyota did something that was pretty extraordinary. They created a popup experience projecting onto a car, but also the walls around it. They focused on their message and story which made it that much more powerful. And by utilizing real lights and physical components they were able to take it even further.
PROJECTION MAPPING IN TECH
Tech makes tech. What I mean by that is that tech teams always use existing technology to create and lay the groundwork for future tech. In 2013, we saw an epic demo of projection mapping on moving objects by Creators. This project helped advance the techniques on how projection mapping can be used. The amount of work and passion that went into this project is inspiring. If you like the results video shown below, check out the behind the scenes video here.
PROJECTION MAPPING IN CORPORATE SETTINGS
Two years ago, Southwest Airlines rebranded. To announce the new look, they gathered their team and created an epic display. The content played creates the illusion of depth and transports the viewers to an airplane hangar where the look of the new planes are unveiled.
PROJECTION MAPPING IN ART
Artists in every medium and genre have been taking advantage of projections since our imagineer friends at Disney. Musicians are no exception. Six years ago, artist Willow created a low budget music video and created a full story with changing scenery in a small room. Not exactly what a big corporation could get away with doing, but for an artist's statement, it absolutely works.
Interactive art pieces and sculptures aren't that uncommon now either. In 2011, Sober Industries created interactive projection mapping sculptures. The two animal sculptures were displayed in a public street corner. The audience could pick up a cube that was equipped with motion sensors and buttons. When they tilted the cube, the color of the projections would change. When they pressed the buttons, it would skip the current graphic and would transition to the next one.
The capabilities of projection mapping are ever expanding especially when you add in other tech, such as motion tracking. If you have more questions about projection mapping, have ideas for a project, or just want to nerd out, hit us up!